The Fishing Ponds
Enjoy a peaceful moment out by one of our 3 ponds... try your luck with rod and reel.
Joshua showing off an 18" catfish.
The fishing pond is stocked with
large mouth bass, catfish, and yellow perch.
You may visit our pond for relaxation or fishing at no charge.
We have fishing tackle for your use.
Night Crawlers $2.oo per dozen
Children 8 yrs and up may fish with our fishing guide Bobby while
parents attend workshops. Children younger need a parent along.
Tyler's first big fish!
Jacob and Bobby took 15 minutes to land this 20" catfish.
The boys had a good day.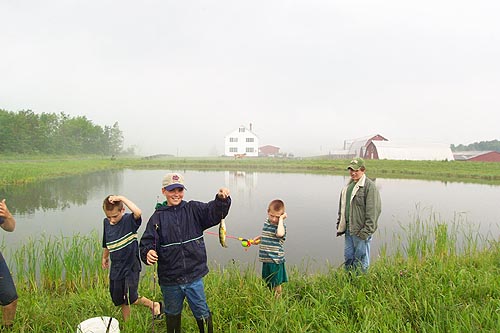 Fishing Derby
Saturday June, 19th (weather Permitting)
$10 per person entry fee
First place prize 40% of total take
Second place prize 10% of total take
Enter your child, 12 years old or younger to enjoy
the morning session from 8:00 am - 10 am.
(20 participants max.)
Open class (Adults included) 10 am - 12 pm
(20 participants max.)